Discontinuing Aril, Announcing Interloper


July 25, 2014, written by Simon
You've probably noticed that we've announced our new game Interloper this week. What you might not have noticed is that we also discontinued Aril. Interloper is Aril's spiritual successor. This means it is in a lot of ways similar to Aril but has enough big changes to be considered a different game. I'm going to talk about all the differences between Interloper and Aril to show you exactly how Interloper is different from Aril.
The name
One thing that was really bad about Aril was its name. It doesn't really sound good, it is hard to pronounce (it sounds like you're saying 'arrow'), and it has no actual connection to the game or its story. Interloper on the other hand has great significance to the lore of the game.
The visuals
The easiest change to notice is the change in visual style. We had several important reasons for this overhaul, the first and foremost reason being appealing to the target audience. Another reason is that the art style of Aril would give off the impression that it's a casual game. Both Aril and Interloper are far from casual but it's important that they won't be mistaken for it. Third, we experienced a lot of problems with readability in Aril. Because Aril features seven factions, each with their own color, there weren't a lot of colors left to use for units and environment resulting in everything besides territory being white, gray, or black. The final reason is that it is a lot more appealing in general. You can see for yourself below.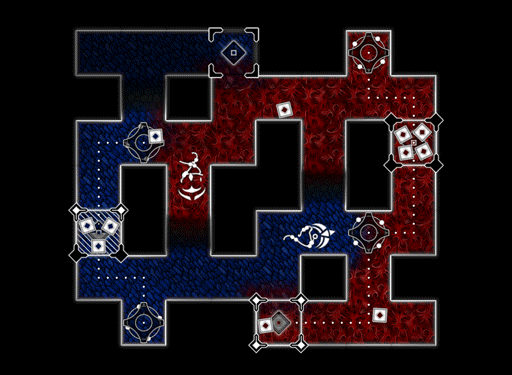 The code base
Aril was originally written in C++ with openGL. We decided that the added performance with this combination was negligible compared to the development time we would save when using C# with XNA. We started anew and developed our own framework called Hypergon along the way. This also improves the flexibility we have for implementing new features like the camera system we used to record the trailer.
The gameplay
Although Interloper has gameplay very similar to Aril there are some drastic changes in the design that give Interloper an entirely different feel and pacing compared to Aril. Aril has a very minimalist design in both gameplay and visual style. We stepped away from that with Interloper and made some serious additions we will tell you more about in a few weeks.
The audio
Along with new visuals come new sound effects and new music. I can tell you about the new style of music and sound effects but it would be better to hear for yourselves. We'll let you hear some of it soon enough.
So there you have it, all the differences between Interloper and Aril. Stay tuned for some pretty cool updates concerning Interloper in the near future.
Comments on Monogon Blog
Indigo 2013 and feedback on Aril


September 29, 2013, written by Maxim
We had the lovely privilege of being invited to show our game at this year's Indigo in Utrecht. Together with 25 other games we got to present Aril in the beautiful city hall of Utrecht to a wide array of wonderful people.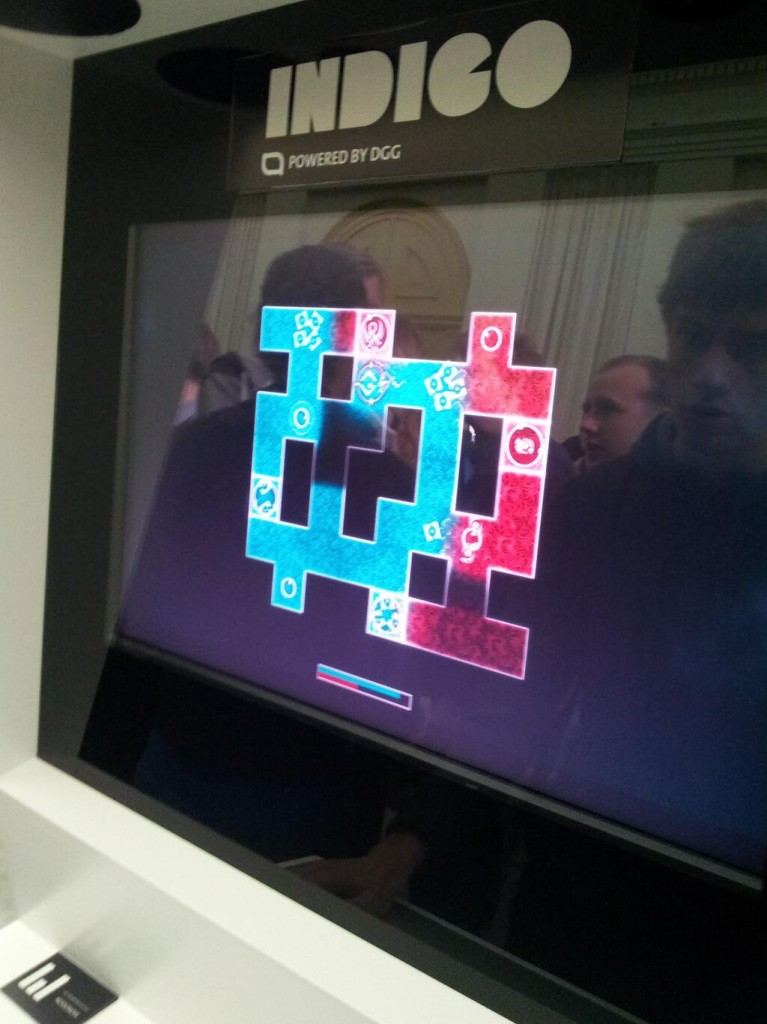 Image courtesy of @conventcrashers
The first day was reserved for people from the games industry. This included other developers, game development teachers, the press, etc. It was wonderful to explain everyone about Aril, especially because of the feedback this allowed us to get. People who are busy with game development themselves tend to look at games very different from non-developers. The feedback you get from these developers is often a lot deeper into the design and more focused on the game's system than the experience itself. It was wonderfully insightful for us to hear about and it allows us to further perfect Aril's overall design and mechanics.
The second day was open to any visitor interested in Dutch games. All kinds of people came and tried out Aril, which (dare I say it?) was even more interesting in terms of feedback than what we got the day before. We explained Aril to kids as well as dads. We talked to avid gamers as well as people who'd never played games before. This allowed us to see the impact of the game's design on a very direct level and it gave us some much needed insights on what still needs to be improved about the game.
What we learned the most was that the game is rather difficult to explain in a short amount of time. When people finally get it, they really understand the appeal and loveliness of the game as a whole. This taught us that we should take it slow when explaining the game and we plan to do that by supplying a campaign to be played single player offline. This way you can learn the game's controls and mechanics step by step.
The biggest mistake in the game right now is that it still needs a lot of polish on the visual in-game feedback. We learned that a lot of the systems are rather foreign to players who see the game for the first time. In order to help them get a better understanding of it all, we need to be really clear on what's going on and what needs to done. We plan on fixing this by improving the current feedback systems and adding new ones where they are needed.
We are eternally grateful that we got to have this opportunity and we would like to thank the lovely people of the Dutch Game Garden and Indigo team who made it possible for us to have this experience. Thank you Martine, Martijn, Romar, JP, Viktor, Yolande and all the other people that helped. We're very much looking forward to next year's Indigo!
-Maxim
Comments on Monogon Blog
Older posts...